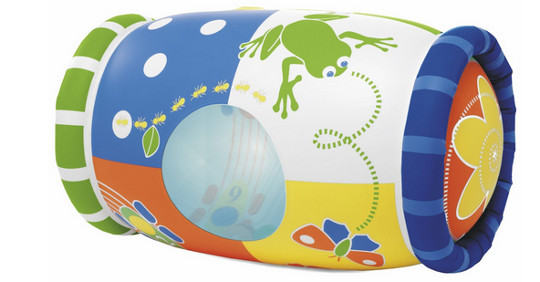 Amazon have offered the Chicco Musical Roller Nursery Toy for £4 instead of £8.99 and comes with free delivery in the UK. It's a 56% discount and well worth it if you were in the market for one of these for your crawler.
I actually looked at one of these in a toy retailer recently, thinking that as an inflatable toy it would be a great to take on holiday with us as it will fit in the suitcase and inflate at our destination. And since it provides different activities, it's a bunch of 'games'' in one. I'm glad I didn't buy it then since it's half the price here
This inflatable musical toy encourages movement as little ones follow it around the room and I'm guessing the 'motor development' comes from crawling.
The tube has colourful rolling balls inside to engage and entertain babies from six months onwards. It also plays music, although one reviewer says it's very soft. Speaking of reviews, these are very split and some are not good at all, and others are great so have a read of them and see whether this will suit your purposes.
Thanks to hsg at HUKD