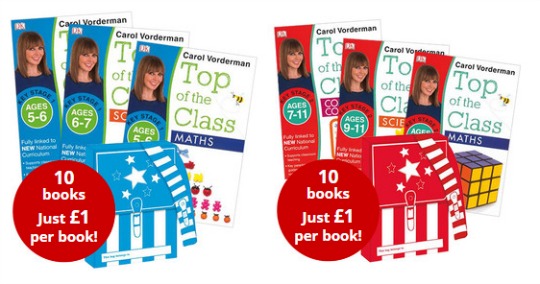 These two educational book collections are new in at The Book People, and they look really useful for parents of primary school children. Carol Vorderman's Top Of The Class are two collections of 10 books, one for Key Stage 1 and one for Key Stage 2. They come presented in a satchel, and instead of the RRP of £39.90 are £9.99 at The Book People.
The books in the Key Stage 1 collection cover English, Maths, Science and Spelling. The Key Stage 2 books cover Computer Coding, Maths, English, Science and French.
Teaching methods have changed hugely since my school days, and hopefully these books will help with new subjects like computer coding that I have not the first idea about. These Top Of The Class books might help to keep the learning going over the long school holidays, or reinforce what your child is learning at school.
Delivery will add another £2.95 to your order, but if you spend over £15 today you can use the code PARCEL to get free delivery.