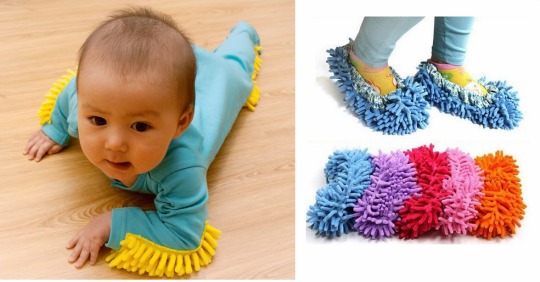 This is something we haven't seen at PlayPennies before, and it certainly got us talking this morning! Firebox are selling a Baby Mop*:  that's a baby all-in-one outfit with fluffy mop attachments on the arms and legs so that your baby mops the floor as they crawl!
We know that this is a novelty item, and that no one is really going to get their baby to clean the floor (are they...?) but it did make us laugh, mainly because of the very tongue in cheek description:
Transform your aimless crawling baby into a cleaning machine
 Save tons of money on house-cleaning costs
 A soft and cosy onesie made from 100% cotton
 Also very effective if you're looking to polish the Porsche
 Teach your little one the virtues of a strong work ethic
 Broom handle attachment coming soon
 Crawl! And the dirt is gone.
If you want one of these for your little one then the Baby Mop* will set you back £29.99 at Firebox. Or perhaps you could make your won by adapting the Mop Slippers from Amazon* that Karen told us about. At £1.67 delivered they are a tad more affordable! You could even get pairs for the whole family. Goodness, whatever next! ;)
Thanks to rd3d2 @ HUKD