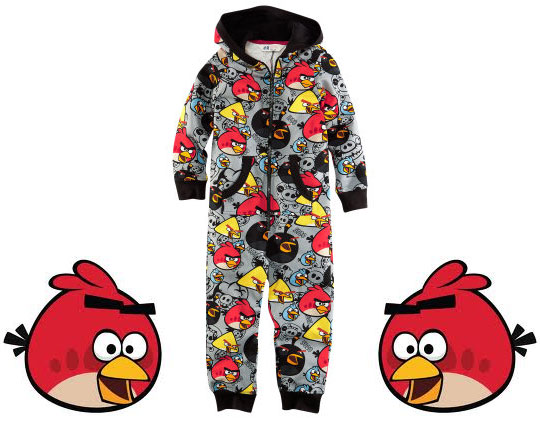 H&M are selling Angry Bird onesies!  The price on their website is £17.99 - I'm going to show you how you can pick one up for just £12.39 *grin*
I LOVE Angry Birds; my youngest son, Edward, loves Angry Birds too and he's very good at it - better than me still, even after the last couple of years.  Whenever a new version comes out (and I have to tell you that Angry Birds Star Wars is just epic) we both download it and race to see who can get the furthest in the first week - we're not at all competitive or anything!
Edward is also very into onesies at the moment too - mind you, so are a lot of 'adult's (weirdos!) - and he'd go MAD for this Angry Bird onesie.  It's available in the following sizes:
1.5 - 2yrs
2 - 3yrs
3 - 4 rs
4 - 5yrs
5 - 6yrs
6 - 7yrs; and
7 - 8yrs
Now, to bring the price down to £12.39 you just need to layer a couple of codes when you checkout - add code: 0241 to get 25% off,  and then 1304 to get an additional £5 discount.  These codes will work on anything on the H&M website, so if you see something else you'd rather have you can use them for that/those instead.
If you're wondering about delivery charges, well, it will cost an additional £3.90 to have your Angry Bird onesie dropped on your doormat.
Thanks to vaughan2508 at HUKD