Up To 70% Off @ White Stuff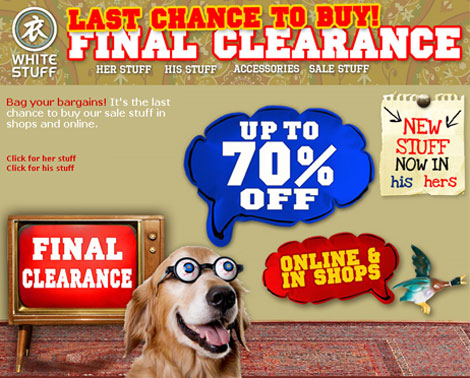 I fell in love with stuff from White Stuff a few months ago and am rather excited to see that a couple of my favourite things have been reduced in the White Stuff sale.
So THESE are the trousers/track pants/yoga trousers (call them what you will) that I feel in love with. They are called Dolce pants and I ordered two pairs, one denim and one black, and they are now my most favourite things to wear in the whole wide world EVER!
They are comfy, they wash really nicely and they look GREAT. You can just slob around in them but still look smart/casual at the same time - grab a pair or two now before they've all gone, which will be soon, as they've been reduced froom £29.95 to £19...I've just ordered another two pairs; I LOVE THEM!
There are 10 pages of summer sale items for us girls and six for the guys.
These rather yummy leather flip flops for the boys have reduced from £39.95 down to just £12 - now that's a proper summer bargain.
My dealings with White Stuff were great - there was a bit of an issue with my card when I placed my order online, because I'd recently moved and addresses changes hadn't caught up with bank records etc, so I ended up with a double order.
A quick phonecall to the really helpful staff at White Stuff, it was all sorted out and everything was perfect.
Right, enough chat! You need to rush over to White Stuff and see if there is anything which takes your fancy before it's all over!