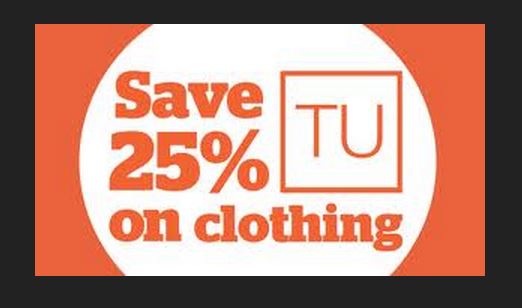 There are five days to go yet before you can head over to TU for some clothing savings, but life gets busy sometimes and we know you want to know about this in advance, so pop it in your diary: The Sainsbury's 25% off TU Clothing sale starts on Tuesday 20th May. 
I'm sure I'm not the only parent out there who just can't keep up with the growth rate of my offspring. Seriously, there must be Miracle Gro in their shoes or something. And then, just to complicate matters, we have this beautiful weather that I won't be complaining about, and have to change wardrobe again.
Fortunately, TU has this 25% off sale every so often, but for parents of children, it's never too often, is it! TU don't sell online, so you'll have to head in to the supermarket for your bargains, whether you want to start stocking up on school uniforms for September, or buy a few summer bits and pieces.
If you have any vouchers, remember to use them to double up your Nectar points, or get discounts on your fuel.
Thanks to SpawnOfSatan at HUKD