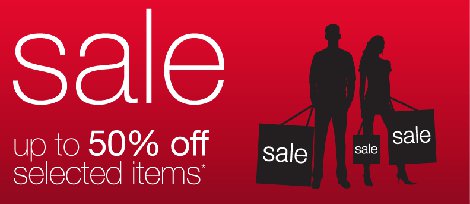 HURRAH! Another Marks and Spencer Sale with up to 50% off various lines and ranges.
Most of the clothes in good ol' Marks and Sparks isn't really my cup of tea anymore; mind you, last year I did buy a FABULOUS pair of combat trousers that I'm still utterly in love with.
Regardless of whether or not their womenswear fits with your taste, you still can't beat them for fantastic lingerie, nightwear and kids clothes - all of my kids have worn clothes from Marks and Sparks and whilst it will cost you more than the bargain basement supermarket clothes, they last and last and last.
My daughter had THE most beautiful yellow dress that she lived and died in, this dress was SO stunning that we couldn't bear to part with it and it's now 10 years old and just been handed down to Tamsin's daughter who's the right size for it now.  That dress has been through a lot and still looks brand new!
Now as luck would have it selected womenswear, lingerie AND kids clothes are all included in the up to 50% off sale; marvellous.
Get in quick though as things tend to sell out fast across the sizes.
Happy Marks and Sparks sale shopping!