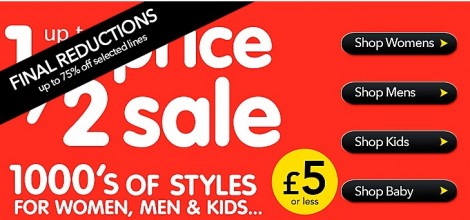 Well, looky here. ASDA's George range of clothing is about to hit a nice little sale, just in time for Christmas and the cold winter months. It is a perfect time to nab some little extras and accessories for summer next year, and as cute little gifts.
The items on sale include quite a few different styles and some of them are branded items at silly low prices. Awesome. I found some truly cute Winnie the Pooh pyjamas as well as fancy dress costumes (which would come in handy for Halloween), and clothing categorised for older girls and boys, shoes, younger girls and boys, and characters.
I am strangely bemused by the fact that you can buy Zhu Zhu pets clothing. I didn't think they were still such a big deal, are they? I mean, I know they have enormous ranges now that include babies and puppies, but nobody I know seems that interested in them anymore.
Anyway, take a look around and enjoy the sale. Items are going for as little as £2 for a pair of jeans. Nice.
Thanks to carloszoe1982 at HUKD!