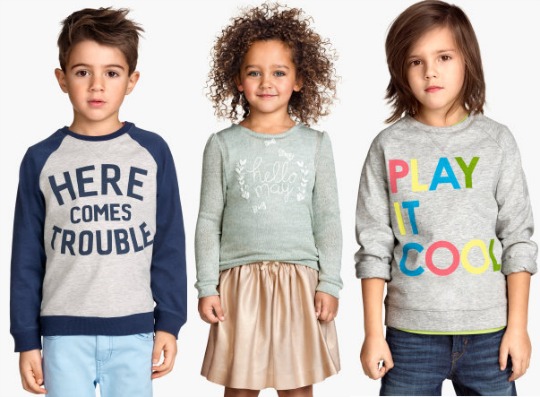 Woo hoo H&M have a £2.99 special on just now. How we adore those £2.99 specials! There's a choice of six Girls' Knitted Jumpers and four Boys' Sweatshirts. You are only allowed a maximum of two of these special priced tops and this offer ends on the 1st March. I know too well how popular these offers are and these will most likely sell out before the offer ends.
The girls' selection of £2.99 jumpers is lovely. Although there's different colours and designs they are all fine knit jumpers with puff sleeves. They are made up of 50% viscose, 49% polyester, 1% elastane and can be machine washed at forty degrees.
The boys' £2.99 special top is a Sweatshirt and much more casual than the girls' ones. It has ribbed cuffs and waistband. Made from 95% cotton, 5% viscose these Sweatshirts can also be machine washed at forty degrees.
Both the girls' and boys' jumpers both sell for £5.99 normally which is a bargain in itself, so to get these for only £2.99 is a real good deal.
Delivery costs £3.90 at H&M and they stipulate that they won't process orders under £6 so bear that in mind.