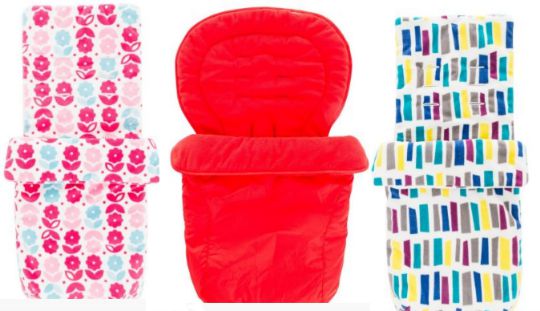 Now that the colder weather is setting in you may be looking to get a footmuff for your little one's pushchair. Me and my son, Daniel like to go on long walks and the crisp Autumn air is just the weather to do it. It did take me hours to find his footmuff as I had stuffed it in the back of the cupboard last Spring. If you have lost yours, or are looking for a new one then head over to Kiddicare where they have a choice of three for just £4.99 instead of £29.99.
If you are looking to replace the footmuff or cosy toes, as I call them, for your little tots pushchair, it can be expensive. Half the time buggy manufacturers won't even sell them on there own. That's why universal ones like these from Kiddicare are handy. They will fit on most pushchairs.
The front apron is removable so you can even just use them as a cosy liner instead.
You can have your Universal Footmuff delivered for FREE when you spend £29.99 or more at Kiddicare, if you don't want to spend as much as that, then it'll cost you £2.99.