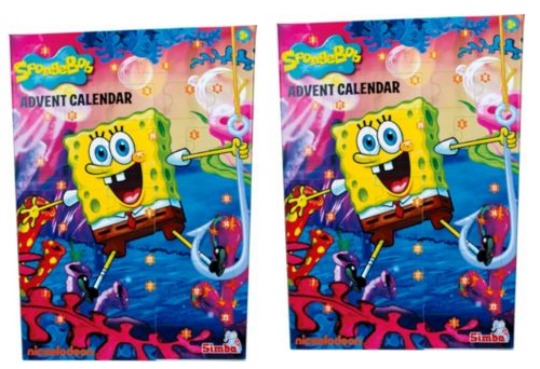 I think these "alternative" advent calendars are really taking off. 2014 has certainly seen more of the non chocolate ones than in previous years. I guess it makes sense, we bang on about not eating too much chocolate, then we bombard children with chocolate come December. This Spongebob Squarepants Advent Calendar from Argos has been reduced from £19.99, down to £9.99 then £4.99, making it one of the cheapest "alternative" advent calendars we have seen so far. These are included in the 3 for 2 toys offer.
What will your little one find in this Spongebob Squarepants Advent Calendar? Figurines including a golden SpongeBob, a 3D hologram,  five glow-in-the-dark figures, ten stickers and twelve 3D puzzles.
There's one review on the Argos website for this Spongebob calendar and it has a four star rating. It states that the twelve puzzles included in this SS Advent Calendar can all be joined together to make a huge puzzle.
I know my lot, who are Spongebob fans would absolutely go bananas if I pulled one of these out each on the 1st December. For £4.99, I could be tempted.
Reserve and collect your Spongebob Squarepants Advent Calendar for FREE from your local Argos store or pay £3.95 to have it delivered.