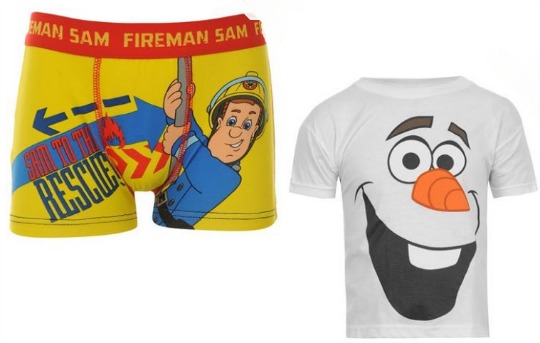 Sports Direct is a massive retailer and they own a LOT of brands. Dunlop, Slazenger, Everlast, Karrimor and so many more. Their buying power must be immense as the prices are ALWAYS low at Sports Direct, and if you need sports supplies it's most definitely the place to go to save £££'s. Just now they have a 'Save up to 90%' event on, but to be honest they always tend to have a sale of some variety on. That's not to say that you won't get a bargain. Children's Clothing starts at just 99p so get over there now to have a look.
These Slazenger T-Shirts*are only 99p each and come in a variety of colours: blue, black, white and Charcoal. How about some Marvel Trainer Socks* from just £1.49?
This Moshi Monster T-Shirt* is just £2 and would be ideal for play clothes. There's a few Disney Frozen tops* dirt cheap too: Olaf is now only £2.99, Anna and Elsa only £3.49, I love warm hugs only £4 and Elsa just £4.50.
Home delivery costs £3.99 or pay the same amount to collect in store where you will get a £5 voucher to spend in store.
Thanks to Donna on our Facebookpage!