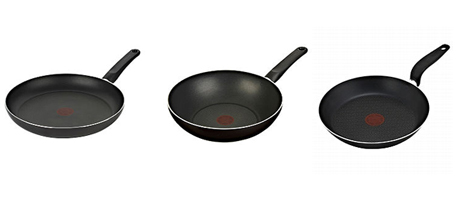 Whoever invented the non-stick pan should be placed up on a pedestal alongside the genius who invented the dishwasher, and the hero who invented the washing machine. At Sainsburys they are now having a 1/3 off sale on their Tefal non-stick range so if your old pans are starting to cling to food like needy babies then now is your chance to get rid of them for good.
Tefal are one of the most popular and well-known brands in the non-stick pan world. They are good quality, have a good reputation, and don't seem to fall apart after taking one look at some steam. In short, they are rather lovely.
The Sainsburys deal is for 1/3 off a range of different Tefal pans and it expires tomorrow. You can choose from the following sizes in frying pan: 32cm or 26cm. Or you can choose from the following sizes in the thermospot range: 20cm and 28cm. And you can get the thermospot stir fry pan too.
Prices range from £9.99 to £15.33. Bargain. This is a fabulous deal on non-stick frying pans and I'm getting TWO.
Thanks to dr_genestealer at HUKD!