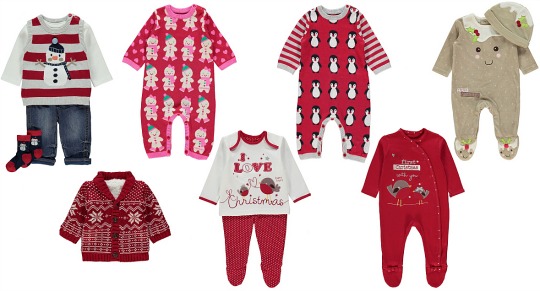 Every year the usual retailers compete with a Baby's First Christmas range, and I've been taking a look online at what's out there. Mothercare has some extremely beautiful and special items that you can personalise and use as a keepsake, but these are a little pricey. I think Tesco and Asda have some great Christmas clothing and gifts for babies this year, but on both price and general cuteness I think Asda has just about won.
The Christmas Pyjama tradition starts with their first Christmas for lots of us, so the My First Christmas Sleepsuit* for a bargain £5 fits the bill just great. There's an even cuter one with reindeer 'slippers' built into the feet, but it's sold out online. If you want baby Pj's they do those for £6 a pair including the I Love Christmas*robin ones.
For Christmas Day outfits then a practical but cute All-In-One is a great solution for younger babies. If they're going to be spending a lot of time asleep then you want them to be comfy and easy to change as well as festive!  For £8 there's a pink Gingerbread* design for girls, or my absolute favourite thing on the whole Asda website is the Penguin All-In-One*. I think if they did these in more sizes I would make the whole family wear them - yes, even you Mum.
If Baby is going to be awake for some of the proceedings then how about the super smart Fairisle Cardigan* for £9, or there's a full  4 Piece Outfit* for boys with a top, waistcoat, jeans and socks all for £15.
If you want a fun outfit for Baby at Christmas, then there are several to choose from starting at £7. There's Santa*, a Reindeer*, a Snowman*, or the wonderfully sweet Christmas Pudding*.
Asda's clothing is Free Click and Collect or home delivery charges are from £2.95.
And Happy First Christmas to all the babies out there.