Asda's Smart Price nappies are one of the best-kept secrets of toddlerhood.

£1.47 for a packet of 20 nappies is a bargain that is hard to beat. Asda only seem to do these nappies in one size - Junior - to fit children between 11kg and 25kg so they're really only fit toddlers on their way to potty training.
When my sprogs were little I tried to offset my guilt about landfill sites full of disposable nappies by using eco versions but there came a point, maybe when I had 2 little dudes in nappies at the same time, that the budget overtook my global idealism. Sad but true.
But that's where these nappies came in. They are a budget brand so don't expect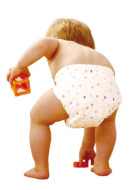 the best quality nappies in the world but if you have a toddler who is not quite ready to go nappy-free these are easy on your pocket. They're actually also surprisingly good quality for the price and once I tried these out I couldn't see any reason to part with any extra cash.
Asda have a minimum order of £25 for online deliveries though - which is a lot of packets of nappies at this price -  so you'll need to spend all the money you save  on these nappies on something else if you want to get them delivered!