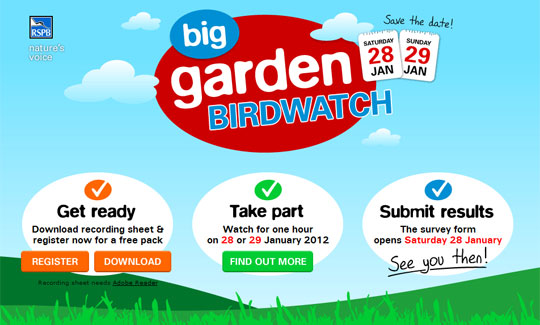 It's time to get ready for the RSPB Big Garden Birdwatch again - I've done this for the last few years with my youngest and he loves it, so do I.
The RSPB Big Garden Birdwatch takes place over Saturday 28 and Sunday 29 January this year and for the first time in ages I'm going to miss it - I don't think you can include birds that you see 6,000 miles away from your English back garden!
If you're into your garden birds like we are in this family, or you'd like to be, then get organised and ready now, here's how it works:
You register your details on the RSPB Big Garden Birdwatch website, download your recording sheet and you'll be sent a free pack.
Choose an hour on either the Saturday or the Sunday when you can just sit and watch the comings and goings of your garden, or local park, and make a note of the birds that pop in to visit.
When you're done you just need to send your results back to the RSPB who'll process all the numbers and publish their findings when they're done.
This is an awesome little thing to do with young ones to get them interested in the world around them and away from computer/TV screens...even if it is just for an hour.
Thanks to ettienem1001 at HUKD