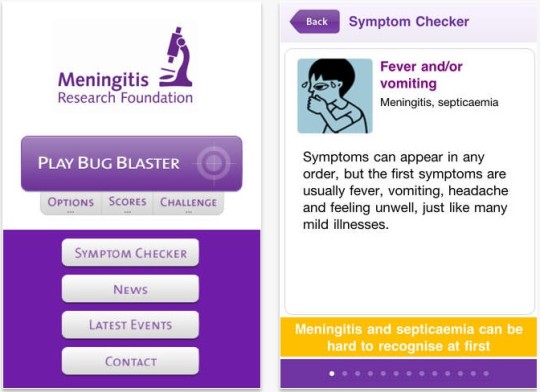 Apparently we're on the last day of Meningitis Awareness Week, and the Meningitis Research Foundation has released a free App to help parents recognize the symptoms of meningitis and septicaemia, along with providing details of your local A&E, latest news and, if you're up to it a selection of fundraising challenges for you to choose from.
We're really lucky in Hampshire to have a free 111 service, that you can call at any time to get medical advice. This comes in really, really handy at 2am when your kids won't stop vomiting and you're not sure if you need to be worried or not. Unfortunately this is only a Hampshire based service, but if you have Meningitis concerns, it can be really useful to know what to look for!
The app ro the Meningitis Research Foundation includes the Bug Blast game, a virtual battle against bacteria.
Meningitis and septicaemia are life threatening diseases that can kill in hours, or leave survivors with potentially devastating after effects sometimes as severe as brain damage, amputations and epilepsy. The diseases can affect anyone of any age, but babies, young children, teenagers and young adults are most at risk.
At least if you download the app and have a browse, you'll know what to look for.