Playmobil Easter Eggs £3.74 Sainsbury's Instore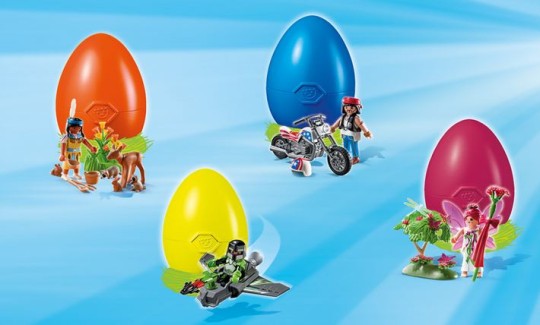 This is so super hot as far as I'm concerned, that I'm about to hop in the car, head over to my local Sainsbury's and see if they have any of these Playmobil Easter Eggs in store for £3.74 - that's cheaper than Amazon's £5.99 - £6.99, depending on what you're after.
I wrote a review on these Playmobil Easter Eggs last week, and they are super duper awesome. I can't wait to give my kids more of them on Easter Sunday, because I know how much they love them. As an alternative to chocolate, or a gift that negates the need for chocolate, or just to cut down the amount of sweet stuff, I think they are awesome.
There are four different eggs: The Flower Fairy With Enchanted Tree, Native American Girl With Animals, the Robo Gang Spy with Glider and the Biker, and each egg comes in a different colour, with it's own filling, so you know what you're buying from the outset. You can use the egg itself later too, and the figurines themselves fit nicely into other Playmobil toys.
I am so in love with these eggs, I wish they'd bring out more!