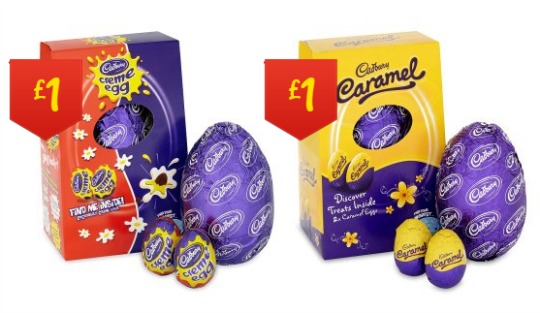 If you have been waiting for the good deals to start on Easter Eggs then Asda is leading the way. They have loads of large Easter Eggs for £1 each, while the other supermarkets still have them for £1.50.
The ones on offer are:
Cadbury Creme Egg 178g
Rolo 131g
Cadbury Dairy Milk Caramel - 178g
Oreo 141g
Cadbury Buttons 162g
Smarties 122g
These are for sale online and in store, but when I saw them this morning the staff were having trouble filling the display quick enough as people were buying so many!
I know Easter isn't until the beginning of April, but it pays to think ahead when you're looking for bargains, doesn't it? £1 each is a great price for these big Easter Eggs, and you're getting a lot of chocolate for your money too.