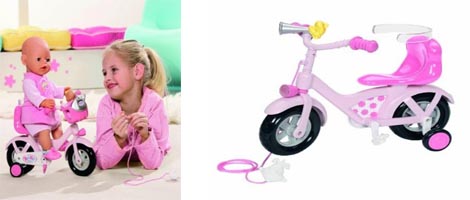 This is another toy for you to stick into your Christmas shopping basket – a baby bike that little girls will have hours of fun with. Marked down from £31 to only £14.99 including delivery, it is a great bargain at, obviously, Bargain Crazy.
The Zapf Creation Baby Born Bike comes in pink and features a pull-along cord, a horn that makes a cute beeping sound, a little shopping basket, and a safety belt to keep Baby Born tightly strapped in while you run around towing her behind you.
The bike is suitable for kids over the age of three and the saving is more than the current cost of the bike! Personally, I can't see how this warranted an original charge of £31 – that seems rather insanely expensive for a toy bike – but for £14 it's a perfect Christmas present.
So, if you happen to have a child with the Baby Born Collection at home, then this Zapf Creation Baby Born Bike will fit right in.
Thanks to smiler001 at HUKD!