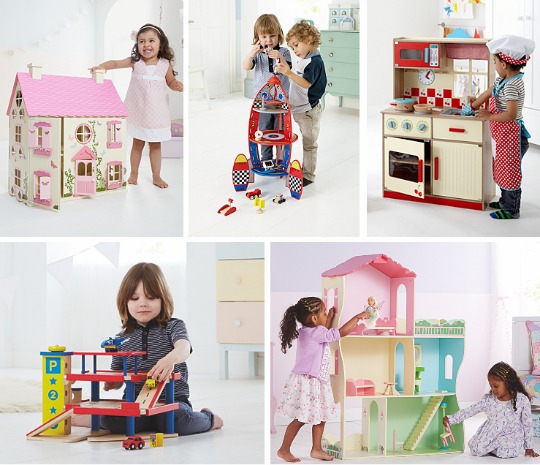 Here at PlayPennies we are big fans of traditional wooden toys as they are so good for imaginative play. Being money conscious parents we are always on the lookout for the best value toys as well, and as usual Asda have come out on top. Their super range of wooden toys has more new items added, and at even lower prices so that there is something for everyone.
Some of our favourites are the Asda versions of the most popular Christmas gifts, like the beautiful Wooden Dolls House*. It is £35 for this large two storey house, and the matching furniture sets are just £6 each. The Deluxe Wooden Kitchen* is cracking value at £40, as it even includes a set of wooden utensils to match the kitchen.
For those who like their toys with added "vroom" like my two boys, there are some amazing new toys to choose from. We already have the Wooden Rescue Racers* fire engine and ambulance set, so to go with them I was thinking of the big multi-storey Fire Station* at £35, although there is even a Garage* at £25 too - and that includes cars and a plane!
My absolute favourite of all these new wooden toys at George is the Rocket Toy*. Both my children are really into space, and this whopping rocket comes with loads of accessories and even some toy astronauts! It's big enough that they could both play with it at the same time and I can just imagine their faces if this was under the Christmas Tree (or maybe on front of it, I don't think it would fit underneath!).
We already told you about the wonderful Wooden Train Set and Table for £75 when that came out, and we know that you loved the Wooden Nativity Set for £15 that we featured as well.
Special mention has to got to the online exclusive Glam Mansion*. It's three storeys high, has loads of rooms to play with, and is open plan so that more than one child can play at the same time. With it's roof top garden space this is a little more chic and stylish than your average doll's house, so let's hope the other doll's don't get jealous! At £60 this is way cheaper than other similar houses that I have seen, and you are getting an awful lot of fun for your money.
Apart from the online exclusive items these Asda George Wooden Toys can be collected from stores for free, or home delivery charges are from just £2.95 for standard delivery. Happy shopping!