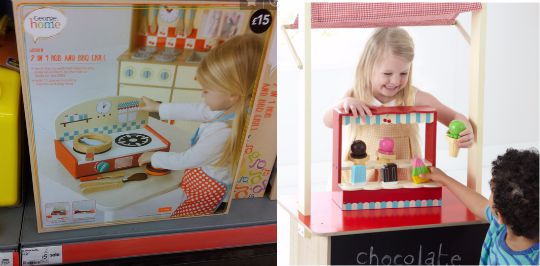 I don't want to send anyone off on a wild goose chase with this one but this is a fantastic bargain so it's well worth keeping your eyes open for when you are in Asda. And the photo is mine as I saw them in my local store, but they have been found elsewhere too.
These wooden toy sets, the 2-in-1 Hob and Grill, and the Ice Cream Set have a regular selling price of £12 and £15 each, and are still selling at that price online. However in some stores these are being sold off at £5 each!
I can't tell you if every store that has them is selling them at this price, but the shelf edge label is a national one and the till scanned them at £5 each without the cashier having to override the price so that's looking good.
For just £5 each these are brilliant toys - sturdy and well made, and already giving my kids lots of entertainment. I'm not suggesting you make a special trip, as you won't thank me for a wasted journey, but keep your eyes peeled!
These prices are in store only, but if you want to see them online you can click here for the 2-in-1 Hob and Grill*, or click here for the Ice Cream Set* at Asda George. Hope you manage to find some!