VTech First Steps Baby Walker £10 @ Amazon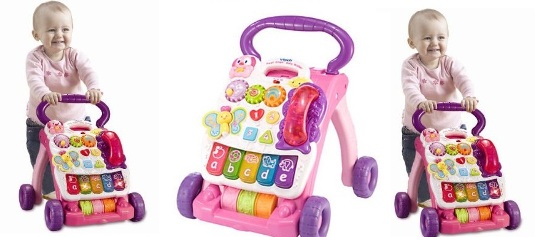 There's a pretty fantastic deal on VTech First Steps Baby Walkers right now, where they're selling it for just £10, a massive 67% reduction in price. There's a catch though – there's no telling when the price will change. Apparently it's been up to £25 and back to £10 again today, but while it is at this price, you're saving £19.99.
The VTech First Steps Baby Walker seems to be one of the nicer walkers around. I was at an NCT sale recently where there were quite a few of these walkers on offer, and the mums selling them had good things to say about them.
We never used a walker so I honestly don't know how useful they are in getting a little one walking, but their popularity seems to suggest that they are.
You can assemble the Vtech First Steps baby walker quite easily and it can be folded up to store away. The baby walker has textured wheels for better grip, an easy grip handle, and a durable design that ensures your baby gets excellent support as they take their first tentative steps.
And when they're not walking, little ones can enjoy the various toys  on the front of the Vtech First Steps baby walker.
Thanks to oxananoguchi at HUKD