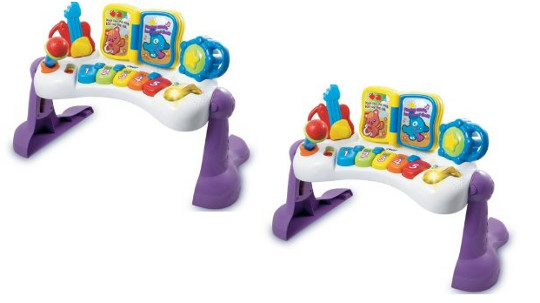 Tesco Direct have taken £19.90 off the VTech Move N Groove Music Station and are selling it at £15.
This seems like quite a good, fun and interactive musical toy from VTech.
There's a drum to beat, a guitar to strum, and colourful piano keys to play. There's a microphone to sing into and a musical book which plays songs about counting, colours and shapes when you turn its pages.
You can also remove the instruments and the book from the keyboard so you can play them wherever you go - although to me that sounds like a surefire way to lose bits off the music station super quickly! But maybe that's just in our house.
It looks like a great little toy, but the definite downside for me is that it needs three AA batteries to work, and has no mains option, so I suspect with all the noises and lights, it'll run through batteries like no one's business, and while you're saving a lot on the original price, you'll quickly make up for it in batteries.