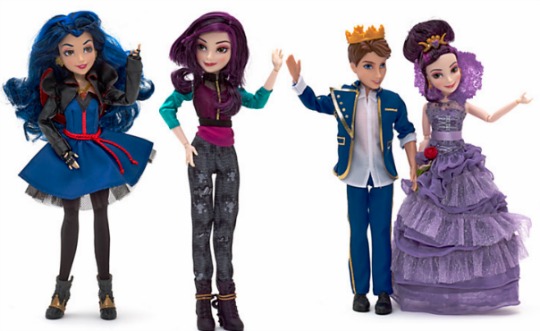 You guys are screaming out for Disney Descendant Dolls deals. Let me tell you, they aren't easy to come by and that tells us something. These dolls are hot property and are looking like they just might make it into the Top Ten Toys of Christmas 2015. Thankfully, the PlayPennies team are hawk eyed and have found the dolls for less than their usual £19.95+ price tag. Where? Disney Store and they are just £15.95 each. Who would think that they would be the cheapest? Certainly not me!
Disney Store have just four of the Disney Descendant Dolls in stock: Carlos*, Evie*, Jay* and Mal*. You can count on these selling out as soon as people realise that they are at least £4 cheaper than anywhere else. So, you may want to grab them sooner rather than later.
There is also this Disney Descendants Mal and Ben Coronation Dolls Set* for just £30.95, which seems like a great price.
These trendy dolls come dressed in their trademark 'edgy' outfits. We don't know if there will be accessories to follow, but we will remain vigilant and let you know if there are.
Delivery is FREE when you spend £50 or more at Disney Store. If you are spending less then it'll cost £3.95.