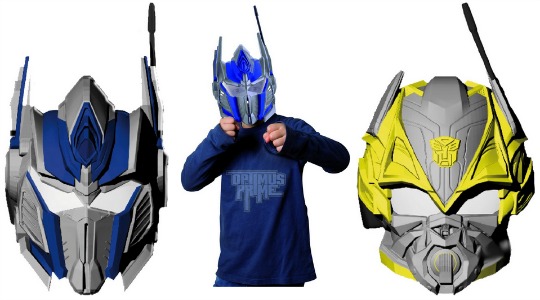 My boys have these masks and they play with them all of the time. They haven't even seen Transformers in film or in cartoon but these masks are cool and apparently great fun.  They have a four and a half star rating on Amazon and they cost just £10 each. These are £39.99 at Argos and £40 at Debenhams, so you really want to be quick. Order one and put it away for any upcoming kids parties and you will look like you have been extravagant with you present buying. No one will know that you have only spent a tenner. there's a two to four week wait but at this price who cares?
You get two masks in this Transformers Intercom Set. That means these work out at just £5 each. What a bargain! Plus you get FREE Super Saver delivery too. Essentially, these are walkie-talkies with a difference. The two masks you receive are Bumblebee and Optimus Prime.
They use a duplex system which means you can talk and listen at the same time. This is a really good feature as that's the problem with bog standard walkie-talkies.
These really entertain the kids, and mine love running about the house in them or even in the garden.