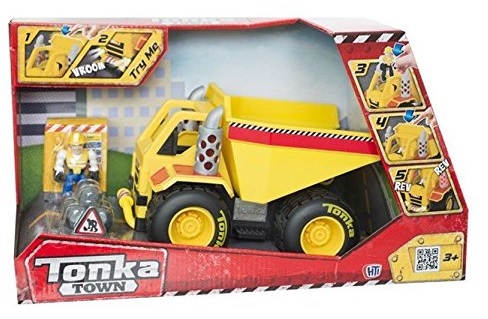 Amazon are selling the Tonka Town Dump Truck for £7.01, a fabulous price for this fun toy. It's currently £19.99 at Toys R Us, and just gets more expensive from there. At Amazon, if you don't have Prime you'll have to add £3.30 for delivery, making it £10. 31, or you can add one of the Tonka Town figures* to top it over £10 and at least get something for your money.
This is a fab gift, I reckon. In your box you'll get a Tonka Truck, 8 boulders, and Kurt, the construction worker.
Press the truck down to switch the headlights on and hear the engine tick over, and when it's time to get to work, place Kurt in the driver's seat: now press down on the truck again to light the exhausts and hear the engine rev up. Now we can load the boulders onto the back of the truck and drive them to the dumping grounds, where we can raise the container to tip them out again.
To make this set work, you push down on the truck, activating lights and sounds. When Kurt hops in the truck, there are different lights and sounds. You need 3 AAA batteries to make it run, but they are included to get you started. 
Interestingly, there's a 'not for 3 years and younger, due to small parts' but the age recommendation is 3 months to 3 years. Go figure.
Thanks to windta1ker at HUKD