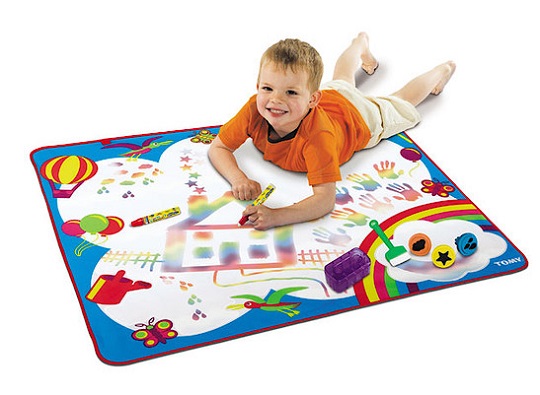 Save 25% on the Tomy Rainbow Aqua Draw from The Toy Shop. You kids can make amazing multicolour, mess-free masterpieces for just £18.75. The Aqua Draw pens and mat were previously £25.00.
This is so cool and something a little bit different. The Rainbow Aqua Draw set allows the kids to draw amazing rainbow pictures using nothing but water. All they need to do is 'draw' on the Aqua Draw mat using water to reveal the rainbow colours. What they do is fill the special Aqua Draw pen with water and use it to draw pictures on the magic Aqua Draw mat. They can also make larger paint brush effects with the special paintbrush pen, or add extra patterns with the three stampers, so cool.
When the water dries out, the pictures disappear, leaving the mat clear to start all over again and even better, there's no mess to clean up.
The set comes with the rainbow mat, an Aqua Draw pen and a paintbrush pen and three special stampers.