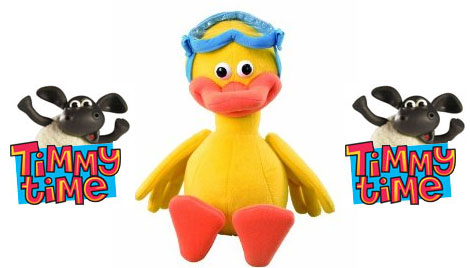 If you're a Timmy Time fan and pop over to Amazon you'll be able to pick up a Timmy Time Talking Yabba for half price, £4.99 instead of £9.99.
I'm not sure who enjoys watching Timmy Time more in my house me (37), my youngest (almost five) or the teenagers (almost 17 and 16) but if you haven't watched Timmy Time on Cbeebies then, quite frankly, you haven't lived!
We each have our favourites; for the youngest it has to be Timmy, my daughter loves Yabba, my eldest won't confess to a favourite and I love the teacher Osbourne Owl.
This Timmy Time Talking Yabba is about 25cms tall and is suitable for young and old Timmy fans alike, as long as they are aged two or older.
When you cuddle him and press his tummy he'll quack at you - it's not much, I mean he's not going to dance for you and sing you a song but quacking is good.
To allow the quacking he's going to need three LR44 batteries which are included; quacking good show!
I imagine, being half price, that Timmy Time Talking Yabba isn't going to stay in stock for very long and, of course, being an Amazon deal we run the risk of them putting the price up the moment this deal goes live.
Thanks to cath1510 at HUKD