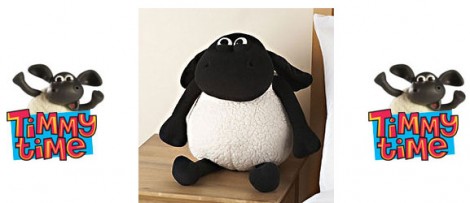 Argos are selling this adoreable Timmy Time Talking Timmy for half price - £6.99 instead of £14.99
On the 8 March I told you about a Timmy Time Toy but he didn't do anything, and I quote...
...he doesn't do anything; he doesn't dance, he doesnt' sing, he doesn't require any batteries and he won't cook the dinner for you.  But he WILL provide hours of cuddly pleasure.
Whilst that's ok for some, it's not for others.  So just for those others THIS Timmy Time toy talks, his name 'Timmy Time Talking Timmy' is a bit of a giveaway really.
He's a scrummy 20inches tall, is still super soft and cuddly and will BAAAA! when you squeeze his hand.
Timmy Time Talking Timmy is suitable for littlies aged two and over and he requires 3 LR44 batteries which are included (I'm glad about that as I have NO clue what LR44 batteries look like or how much they cost!).
Timmy Time Talking Timmy is currently out of stock for home delivery, although I don't think this is any huge drama - Argos' delivery price of £5.95 is well over the top in my opinion and you're generally better off reserving online and collecting most things in-store.
Thanks to white rabbit at HUKD