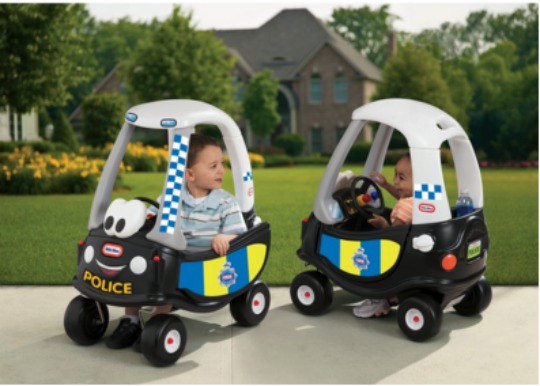 Little Tikes Cozy Coupe Cars are the most popular ride-on toy for children, and have been around for more than 30 years! You can often find goof offers of around £35 or less on the Classic Red Cozy Coupe but the other designs rarely come down so far on price. Luckily Amazon have reduced the price of the Cozy Coupe Police Patrol Car down to £32.57.
The Cozy Coupe Police Patrol Car comes in a blue and white finish with police car stickers, and is perfect for little ones as they grow thanks to the removable floor. Either take control using the parental handle or remove the floor for your child to push-power the ride-on using their feet on the floor.
These toys are great for both indoor and outdoor use, and are very sturdy and long-lasting, as we would expect from the Little Tikes brand. Incidentally, if you are looking for a deal on the Classic Red Cozy Coupe* then that it £35 with free delivery at Amazon as well.

If you order from Amazon then home delivery is free as long as you remember to choose "Super Saver Delivery" at checkout.