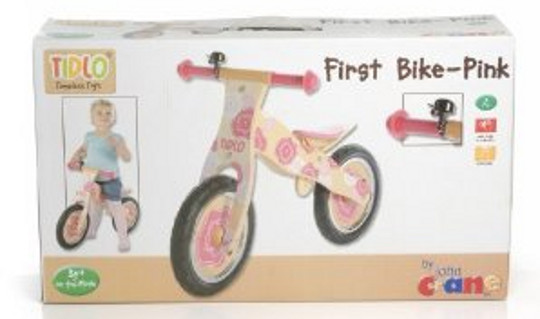 Tidlo's First Balance Bike in pink is on offer at Amazon for £40.19 instead of £59.99. It's Amazon,  however, so bound to not last too long! And really, as far as balance bikes go, it is a pretty good price.
Well, maybe not tear up the roads - if my toddler's anything to go by, it's more a matter of tear up your knees, but we've  learned our lesson and mainly 'ride' on the grass now. I'll tell you what, getting your little one on a bicycle is no mean feat! It's actually pretty tough - and back breaking - work!
That said, the theory is that toddlers who go straight onto a balance bike learn to ride quicker as they find their balance faster.
This particular make and model comes with a useful carry handle, which is fabulous as you inevitably end up carrying it when they've had enough. It has pneumatic tyres so you're not going to end up sneaky-pumping at the filling station and it has a height adjustable seat which should give it a longer life. There are also easy grip handle bars to make sure little ones have a firm grip.