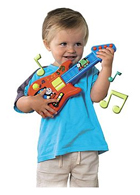 Got a feeling of déja vu....?
In this instance your feelings of 'I think I've seen this before' would be totally correct because this Thomas 'Rock and Roll' guitar featured here on PlayPennies just a week or so ago.
No, I haven't gone mad and started to randomly re-post my posts - the previous deal on this was with Amazon (it's expired now btw) and Asda have TOTALLY blown that deal out of the water with this one!
FIVE POUNDS AND FIVE PENCE!!!  That's all you're going to pay for this rocking little Thomas guitar if you order online and arrange to collect it in-store (sorry to anyone who took advantage of the Amazon deal...YAY! for anyone who missed it and jumps on board with this one!).
So, the guitar...what can I say about it that I haven't already said....erm.....not much otherwise I would have said it before!  So here's a brief recap:

"...it's everything you can expect from Tomy – bright, chunky and sturdy so it should withstand even the most outrageous of rock star antics.  It plays six different tunes and has two different play modes; there are, of course, the obligatory flashing lights and there's even a whammy bar so your little rock god can REALLY be a guitar hero.
Reviews for this guitar rock, it's suitable for little rockers aged 18 months and over and the required 3AA batteries are included."
This time, thanks to Smiler001 over at HUKD!