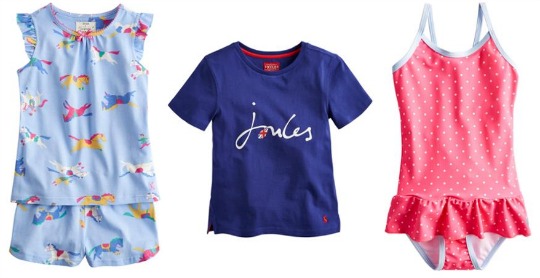 The big summer sales are popping up all over the place, and I have three big ones for you tonight! The Joules Summer Sale has started today, with up to 50% off across all departments online. We know that you love their children's clothing, but we're not keen on their prices, so a big discount causes a lot of excitement!
The Girl's Sale section has the most beautiful clothing, and there are big reductions on so many dresses, t-shirts, leggings, shorts, swimwear .. oh everything! The prices are so cheap for a name like Joules as well, and lower than I have seen for a while. How cute are these short summer pyjamas* with 50% off? And this spotted dress* would look lovely for a summer party or a wedding.
There's a lot less in the Boy's Sale section, though there are some fab jackets and PJ's, and there are some really cute baby things as well, but it's the girls section that has the most to choose from and the best bargains. Mind you, I haven't even looked at the adult clothing!
Click and collect is free, home delivery is free when you spend £49, otherwise delivery is from £4.95.