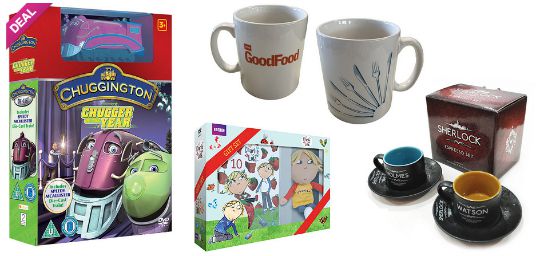 The sale at the BBC Shop has some really big discounts in it's summer sale, and they have just added loads more items as well. It is mainly DVDs but are also a few bits of merchandise like posters and gifts. Prices start from £1.99, and everything comes with free delivery as well.
The sale includes merchandise from dozens of top shows, for children as well as adults. This includes Sherlock, Doctor Who, Wallace and Gromit, Shaun The Sheep, Octonauts, and more.
There are loads of children's DVDs from £2.99 each, and as they all come with free delivery this is a cheap way to keep them entertained on a rainy day this summer holiday. I like the Chugginton 'Chugger Of The Year' DVD*, as it's just £3.99 and that includes a die cast train model too! The Charlie and Lola Gift Set* includes a DVD and a toy Charlie for just £9.99 and that's really good value.
There are more than 200 DVDs to choose from in the sale, and they include some classic shows as well as modern ones, so you could even try entertaining the kids with some of your own childhood favourites - Grange Hill maybe?