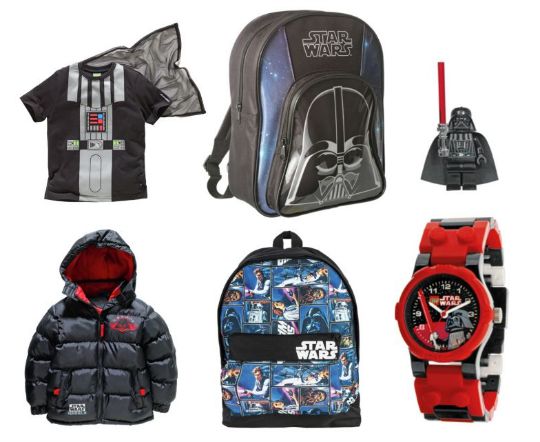 EDIT: Apologies to anyone having trouble with the promotional code on the Argos website. I have contacted them and they are getting their Technical Team to look into the problem. Argos have confirmed that the code will work at the till in stores. 
Have you been looking at all the new Star Wars things released yesterday for #ForceFriday? If you are looking for something for the kids for birthdays or Christmas then this is a great offer at Argos. This weekend they are offering an extra 20% off Children's Star Wars Clothing and Accessories when you enter the code SWCL20 at the checkout or give the code to the cashier in store. What's even better is that this even works on items that are already reduced, meaning there are some fab bargains to be had!
Nada wrote about the Darth Vader T-Shirt with Cape* a few days ago, which was a fab buy at only £3.99, but now you can get it for £3.19! There are a couple of backpacks too, like the 3D Darth Vader* one that was £14.99 that works out at £5.99, or the super cool Retro Star Wars backpack*which was £14.99 is now £7.99.
There is also a Star Wars Puffa Jacket* which looks nice and warm for the Autumn, reduced from £16.99, to £13.59, but with the code you get it for only £10.82! That's a cracking price for a fully lined waterproof jacket (with a cool pic of Darth Vader on the front too!).
You can also get 20% off all the new items just released yesterday, like the Glow-in-the-Dark hoodies, slippers, dressing gowns, pyjamas and more. There's plenty of stock around, and if you order online remember to enter the code SWCL20 at the online checkout, or if you collect on store you quote to the cashier at the till.
This offer is just on for the next few days, and ends on Tuesday 8th September.