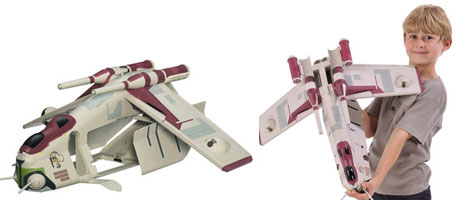 I. WANT. THIS!!! I want this Star Wars Republic Gunship and I want it NOW!
Tell me this is NOT cool! Go on, I DARE you! *waits patiently, listening....* Nope, I didn't think so.
You can't tell me this isn't going to make any self-respecting Star Wars officiando happy - whether you're four years old or 34 years old!
It's a beast of a gunship and when it comes to space ships, Star Wars or otherwise, BIGGER is most definitely better.
It features flip-open firing blaster cannons and has all sorts of other features and bits and pieces to make you feel like a real member of the Republic, engaged in battle against the evil Empire.
Also, if you spend over over £30 on Hasbro Star Wars toys, you'll get a free Nikto Pirate figure - just add the figure to your basket and his price is deducted at the checkout.
The Star Wars Republic gunship should be £79.99 but is up for grabs for half price -  I imagine it won't stay in stock for long!
Delivery, if you can't collect it from a Toys R Us store, is £4.95.
Thanks to icklehels24 over at HUKD!