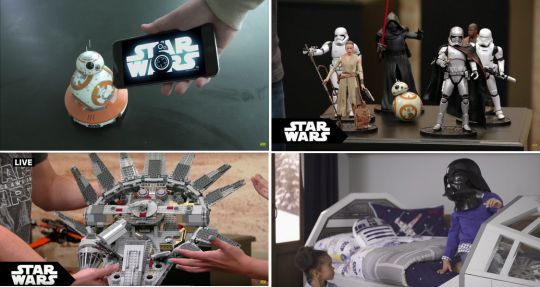 If you are a Star Wars fan then you are probably all over this one already, but for those who are not avid fans or who are looking for ideas for others this Friday is a big day. Friday the 4th September has been named as 'Force Friday' and there will be a whole new range of toys being launched to tie in with the new film 'The Force Awakens'.
Toys stores like Smyths and Toys R Us are opening some of their stores at 12.01am tomorrow (that's less than 3 hours away folks!) so that shoppers can be the very first to get their hands on the new goodies.
Big retailers like The Disney Store, Zavvi, Amazon, Smyths and Toys R Us will all be starting selling the new toys from one minute past midnight tonight and excitement is running high.
Although they can't reveal the details of what is coming, there is a special un-boxing live on You Tube which is revealing the toys one by one. It's scheduled to go on for 18 hours to show all the new toys, but luckily I haven't had to sit through all that as the highlights are being pulled out by others (phew!).
There will be full details by tomorrow, but so far what people are getting really excited about are these:
A BB-8 Droid that you can control with a phone app
A Millennium Falcon Complete with Action Figures and Nerf Darts
A Stormtrooper Nerf Gun
New character costumes exclusive to The Disney Store
Remote-Control Flying X-Wing and Millennium Falcon Quad Copter made by Air Hog
The 1300 piece LEGO Millennium Falcon!

Force Awakens Black  and Elite Series of action figures

Kylo Ren's lightsaber is a Disney Store exclusive
Hasbro's Bladbuilder Lightsaber Jedi Master playset
Micro Machines Star Destroyer
There's also a Millennium Falcon Bed for kids that looks just about the best bed I have ever seen! I'm a little worried that it was announced as being sold by Pottery Barn in the US, but surely there will be some UK suppliers too? Please?
Anyway, with more exciting toys, merchandise, costumes and more being un-boxed live as I write there is a whole new range of items that will be on the Christmas wish lists of many children and adults alike. I'm sorry, but my inner geek is super excited by all this - as I know the rest of my family will be when I show them this lot in the morning. You can see the un-boxing on the official Star Wars You Tube channel, and you can start shopping at the major toy retailers from midnight tonight.
Images IGN/YouTube