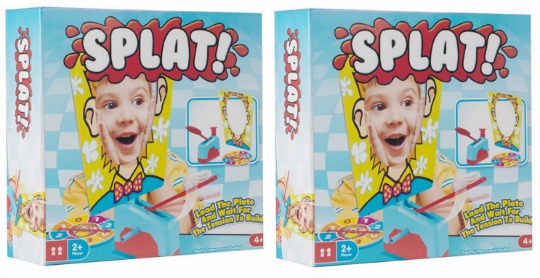 Does this game look strangely familiar? Yep, it looks exactly like Pie Face to me as well! This game could be a great alternative to splashing out £20 on Pie Face as it's selling for just £9.99 at Smyths, and when you take it out of the box no one is going to be able to tell the difference! This is pre-order only for 3rd to 10th December.
It has exactly the same face shaped hole for you to plant your mush in, a number spinner, and a plate that you load with the wet sponge or some cream and wait to see who gets 'pie' in their face. Yes, still can't see any difference here.
We were thinking of getting Pie Face for some fun on Christmas Day as it would be a laugh to see everyone getting splatted after dinner and a couple of glasses of Baileys, so I think I'll be ordering one of these shortly.
There is a wait for dispatch of Splat! at the moment, so for Christmas that's no issue, but if you need the game sooner then it's back to the original Pie Face and the £20 asking price. And we won't tell anyone it's Splat! if you don't!