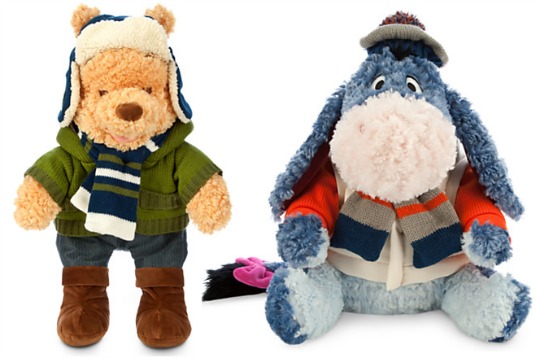 It's another really great Deal Of The Day from The Disney Store online. For today only you can get the Special Winter Edition Medium Soft Toy of either Winnie The Pooh or Eeyore for £10 rather than £30. Delivery adds an extra £4.95 unfortunately, but if you want to get the gift personalised with a beautiful embroidered name tag that only costs £2.95 which seems a really great price.
Pooh is a nice big 40cm tall, and wears a cord trousers, a knitted jumper and scarf and lovely cosy boots and hat. Eeyore is also wrapped up for winter in a body warmer, hat and cute little pom pom hat. It also says that Eeyore has a "velcro tail" so I'm guessing it's removable like the real Eeyore (poor thing).
The price is still showing as £30, but drops down automatically to £10 at checkout, no discount code needed.
Both of these soft toys are suitable for all ages, which is good to know when buying for very small children. Do you know any little ones who would love to unwrap this on Christmas day? Me too.