Scooby Doo Pirate Fort Playset £20.00 @ Tesco Direct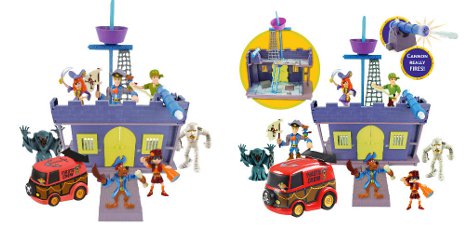 The Scooby Doo Pirate Fort Playset is £20.00 at Tesco Direct right now, half of it's original £40.00 and £9.99 less than Amazon – for a similar set without the figurines.
If Scooby Doo and his friends and their games are a hit in your house, I wouldn't be surprised if this Pirate Fort Playset goes down a treat. The playset comes with seven pirate themed characters and lots of features in the pirate themed vehicle.
There's not a lot of information on this set on the website, and it differs from sets with the same name sold at other retailers, but the 69 reviewers have given it overall good ratings. Most say that their kids love playing with it, that it's fairly sturdy, with only a couple of bits that had to be put in place, such as ropes and cannon, and that it is great for imaginative play.
There were also comments about the extra's being nice, such as the van which also comes with the set.
The negatives were that the trap door can be a bit flimsy, and that it doesn't take very rough handling and 'breaks' easily, but is as easily put back together.
Suitable for ages 3+