Oh man, my kids LOVE stomp rockets and these are a snip at £5.99!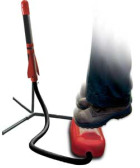 Usually £14.99, this Science Museum version is less than half price and comes with an impressive six rockets and instructions as well as the launch pad, air hose and stand.
If you've never had a shot at one of these they're really worthwhile and provide loads of laughs and family fun. You basically jump, or STOMP on the launch pad and watch the rocket soar into the air - up to 400 feet with this one, apparently!
You can experiment with different kinds of stomping to see see how this changes the height and length of the rocket flights. Simple to assemble, your rocket will be ready for launch in seconds but the packaging warns that adult supervision is required at all times.
It's probably not a toy for the garden though, it has to be said. What goes up must come down, as the saying goes, but since the rocket can technically travel a total of 800 feet into the air and back down again, there's no telling where it might land. And while asking for your rocket back is a good way to get to know your neighbours I reckon it could wear thin after a while. That must be why it comes with 6 rockets! Great fun on the beach or in the park, though. I've snaffled one for my eldest's birthday later this month and am hoping it will encourage my troop to accompany me on the long walks by the beach that are usually guaranteed to make them moan.
With thanks to whizzkid on HUKD.