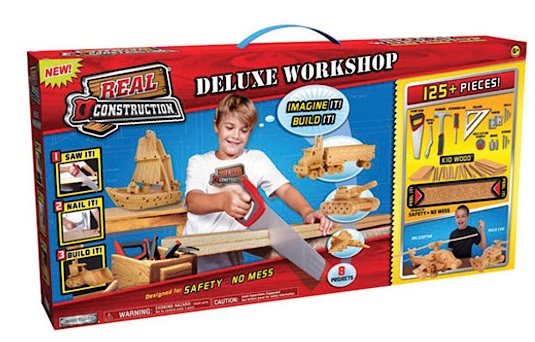 Save 66% on the Real Construction Deluxe Workshop that was £29.99 at The Toy Shop. This awesome set that contains everything your child needs to start their own workshop is now £9.99.
The boys are going to love this one. They'll have hours of building fun with the Real Construction Deluxe Workshop. The set has over 125 pieces and comes with everything little carpenters aged six and up need to complete their own woodwork projects.
They can check angles with the set square, cut the 'Kids Wood' with the plastic saw, then use the hammer and nails to put their creation together. There's also a guide book with eight project ideas. The child-friendly, plastic tools are safe and easy to use, while the 'Kids Wood' is special foam that's designed to look, saw and nail just like the real thing.
Follow the instructions to make a helicopter, tank, pirate ship and much more, or use your imagination to create your own designs.
The set comes with a hand saw, detail saw, screwdriver, hammer, 50 screws, 50 nails, Kid Wood, hinges, a hole cutter and project book.