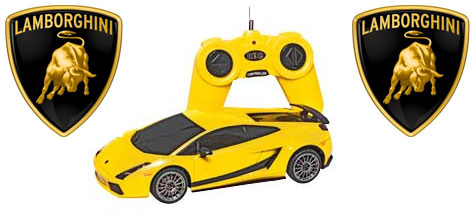 I think you can probably tell from the price that this radio controlled Lamborghini, up for grabs for half price at Argos, isn't full size and isn't road legal *sigh*
Instead of £12.99 you can have this radio controlled Lamborghini for £6.49 - unless you're prepared to save up for a LONG timel, or win the lottery jackpot one day, then this is your best chance of owning one in the short term.
My entire family are very 'motorsporty' and I sat in my first Lamborghini when I was 14 (it was a Countach for those enquiring minds who have to know) and I've been in love with them ever since.
I've played with a full-size Diablo (that was a yellow one too) and I'm on a serious mission to own a Murcielago but in the meantime, I might just have to buy this radio controlled Lamborghini; think of it as another way of visualising my ultimate four-wheeled goal.
It's a 1:24 scale of the full size car and has forward, reverse, left and right movement.  It's suitable for aspiring Lambo' owners aged three years and over and needs 5 AA batteries which aren't included (don't feel too cheated, they don't come included with the real thing either!).
It's available for in-store collection AND home delivery for an extra £5.95.
Thanks to kingkajee at HUKD