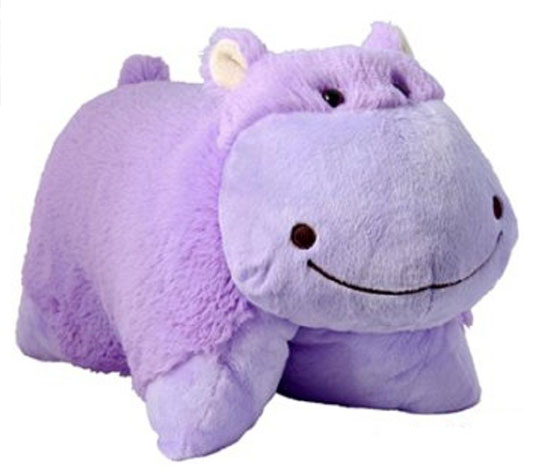 If you pop over to Amazon, you'll be able to pick up a purple Hippo Pillow Pet for £8.43 - its usual full price is £19.99.
Here's a little bit of wildlife trivia for you on this Tuesday morning: did you know that hippos are the most dangerous animal in Africa?  They kill more people each year than lions, rhinos, leopards, elephants and buffalo combined!  
I don't think we have to worry about this purple Hippo Pillow Pet being anything other than cute and cuddly though, and I can attest to the fact that they are super cuddly and very popular with kids.
My youngest niece helped me review the Ladybird Pillow Pet that landed on my PlayPennies desk last year (you can read it, in full, HERE): she loved it on first sight and loves it still.  When I fly (which is often), I'm seeing increasing numbers of kids at the airports, and on my flights, cuddled up to various guises of Pillow Pets - they look so comfy and cosy (much more so than the standard issue airline pillows) that I'm sorely tempted to buy one to travel with myself!
Your Pillow Pet can be opened out to make a bigger cushion for sitting on, or they can be kept folded closed and used as a comfy pillow, and for cuddles too - my niece also keeps her pyjamas folded up inside hers during the day.
Thanks to brockwelljunk at HUKD