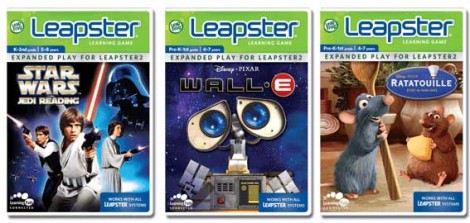 The Leapfrog store are selling Leapster 2 games for half price at the moment; hurrah!
So you've bought a reasonably inexpensive Leapster 2 only to discover the games can cost almost as much as the console did, well now is the time to buy games in advance and stash them for birthdays and Christmas time.
There are quite a few half price Leapster 2 games up for grabs and they cost £9.99 now instead of £19.99.
There's a nice mix for boys and girls; my youngest would go mad for the Star Wars games - Star Wars Jedi Reading and Star Wars Jedi Maths.
The other titles include:
Disney Pixar Up!
Scooby Doo
Disney Priness
Go Diego, Go! Animal Rescuer
Wolverine
Ratatouille
Sonic X
Wall-E
Delivery will set you back a mere £1.50 and there are other various Leapfrog deals up for grabs at the Leapfrog Store too.
My youngest had a couple of Leapfrog bits and pieces bought for him when he was around two and three, he loved them and still goes back to 'visit' his electronic Farmer Tad book every now and again when he thinks no one's looking.
Thanks to n1gnl at HUKD