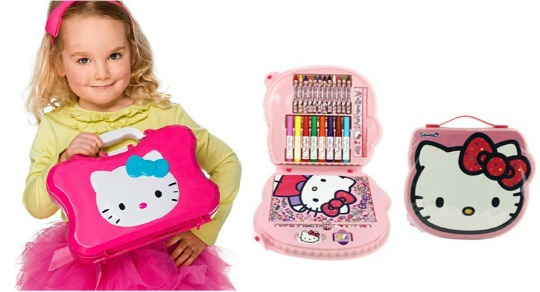 If you have a Hello Kitty fan to buy for this Christmas then there are some cute little gifts reduced at Argos at the moment. Both the Hello Kitty Art Case and the Hello Kitty Bead Case were £9.99 and are now £4.99 each. Stock seems very widely available, with stock in every store I checked which is a little unusual for Argos to say the least, or you can also get them delivered.
The Hello Kitty Art Case is full of stationery and colouring things to keep little ones occupied. There's 12 crayons, a pencil, an eraser, a pencil sharpener, a ruler, a notepad and 8 washable (phew!) felt pens. It all comes in a pretty pink carry case too.
The Hello Kitty Bead Case is great for girls who love making things, as it includes 500 beads and charms so that they can make bracelets, necklaces and other cute jewellery for themselves and their friends.
Both of these sets are only suitable from age 3 because of the small parts, but I doubt there are any Mums reading who would be considering giving their younger toddlers beads or felt tip pens to play with anyway!
It's worth a mention that there are a few other Hello Kitty things reduced at Argos at the moment. One of the best bargains seems to be a Hello Kitty Duvet Set* which is now only £8.82! If you want to check out what else is on offer click here for the Hello Kitty range* at Argos.