PlayPennies Competition: WIN One Of Five Copies of Spin Mania!!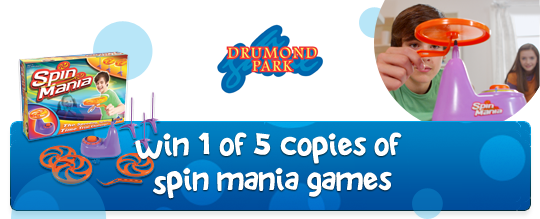 ****THIS COMPETITION IS NOW CLOSED*****
Kids take on a unique spinning, speeding, time trial challenge!
Spin Mania (rrp £22.99, age 6+) from Drumond Park is a thrilling new action game guaranteed to set hearts pounding with excitement!  The challenge is to 'spin-up' three orange helicopter-like rotary plates on the motorised Spinning Machine as fast as they can.
Players carefully lift each one off and carry it, still spinning, on their 'spin-spike' to one of three purple plate stands, where they set it down.  Then he or she (both boys and girls love this game) spins-up the next one, and the next one… Sounds easy, huh?  But all three plates must still be spinning on their stands when players finally dart back to the Spinning Machine, stop the clock and mark their time – and the fastest time wins.
Before they start, all players agree the playing area such as a specific room or rooms inside the house, or a defined area outside.  Before each turn, the other players take the plate stands and place them around the agreed playing area.  They must be reasonably easy to see – you can't actually hide a stand, although it can be a bit difficult to get to – under a table, for instance.
Children can practise and play this brilliant new action game on their own, but of course it's even more fun to take on one or more opponents. And if you want to make a real party of it, there's plenty of scope for team challenges, too!
How To Enter:
Standing a chance to win YOUR copy of Spin Mania is EASY! Answer the question below and recommend a friend and you get two entries into the competition!
Question: Visit the Drumond Park website and name two other games that they make.
Leave a comment in the thread below with answer (1 entry)
For bonus entries to the competition:
Get a friend to enter (they must mention your name) and you get 1 bonus entry!
Tweet a link to this contest and leave your twitter link below (1 bonus entry)
Rules:
Contest ends on 19 April 2013
Open to UK residents only
One type of entry per household
Must complete email verification when subscribing
Must include a valid email address if commenting
Admin's decision is final in all cases