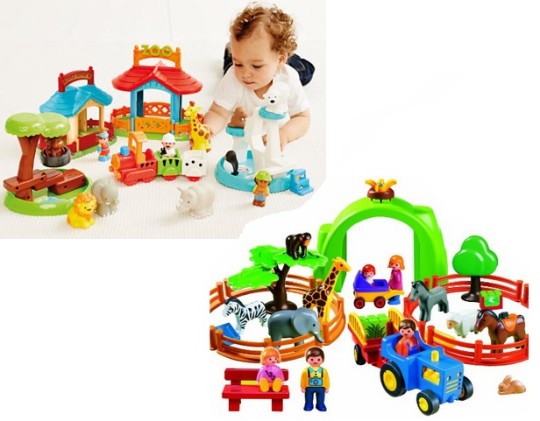 There are two great play zoo options available at the moment, and which version you go for will depend as much on your budget as your space, and your collection penchants.
I think the two zoos hit a similar demographic, but which you prefer is up to you, really - I'm loving Playmobil at the moment.
It's a fine day at the zoo, the whole family has come including Mummy with baby in a push chair. There are two large enclosures for the animals including an elephant and a stripy zebra. The keeper has the trailer loaded up and is pulling it with the tractor. Suitable for children aged eighteen months and over as small pieces are included.
The Happyland Zoo comes with loads of stuff too!
Make the monkey swing in the tree, drive the tour train around and help the zookeeper chat to the visitors about all the different animals. At the end of the day the visitors can go to the gift shop to buy souvenirs, and the zookeeper can feed the animals their dinner before the zoo closes.
(If you're buying more than one item, you can add something to the value of £15, and use the Mothercare App to take £10 off!)
Loads of choices, it's going to be a tough decision! (The hashtag #firstworldproblems comes to mind!)