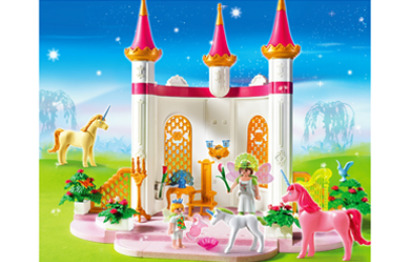 Please Santa, if you're reading, can I have one of these? I've been soooo good this year.
Fairy princesses are going to love this, and their parents are going to love the price.
The beautiful Unicorn Fairy Palace comes with 2 Playmobile figures; the Fairy Queen and Princess Lily, as well 3 different coloured unicorns and lots of cute accessories including flowers, turrets for the top of the palace and the latest design in chic gold fairy fencing. It's suitable from 4 years of age but there's nothing to say whether 33 is too old to ask for one...?
Joking aside, Playmobile products rock. Of all the bazillions of toys my boys have had over the last 5 years the Playmobile items are the only things still standing and they're still in mint condition, despite the battering little boys give to pretty much everything they own.
And if the little princess in your life decides fairies are so last year by this time next year, well Playmobil products generally sell really well on ebay so just try not to lose the accessories if you want the best chance of selling it on when all things pink and fairy-themed lose their cool.
With thanks to Mysteron on HUKD!